ACE Plant-based Eating Course

$139

 
$39
Master all you need to know in order to be a plant-based eating pro in a matter of hours! ACE is an acronym for AMEND the recipe – make your favorite recipes plant-based, COOK without oil – this is a large component of reducing inflammation, reversing disease, and losing weight, EAT on the go – learn how to eat out, socialize, and travel while sticking to this lifestyle.
Normal price $139. Introductory special of $39 includes 2 bonus videos!
Use discount coupon code FFBonus (FF stands for friends and family so share this gift of health with your friends and family)
...struggling with weight gain, high cholesterol, high blood pressure or high A1C
and don't know how to get them back in control?
...battling to know how and what to cook when eating plant-based foods
and have no idea where to start?
...confused regarding what to eat or how to eat out
because you don't know what to look out for and how to plan?
EAT AND LIVE THE WAY YOU WANT WITHOUT COMPROMISE!
This course includes lessons on what to eat, what to cook, and how to shop. This class is the shortcut to a healthier lifestyle. It will teach you the basics of transitioning to a plant-based diet, how to cook without oil, and how to eat out or travel while sticking with this lifestyle.
HI! I AM LAUREN BERNICK AND I'M HERE TO HELP YOU TAKE BACK CONTROL OF YOUR HEALTH THROUGH PLANT-BASED EATING!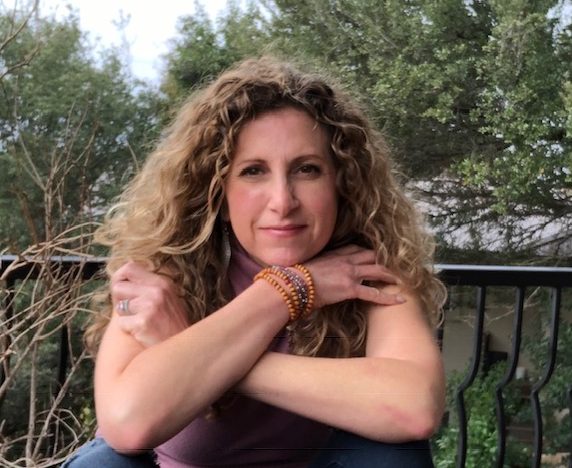 I am a former stand-up comic turned health advocate. I met my husband when I was 15 years old and he was 20. That might be frowned upon these days. He was my boss at my first job, also frown-worthy. I fell in love with him at first sight. I was right. We have three grown humans that we made together, a semi-crazy but adorable dog, and a tortoise that we got for child #3 a long time ago. Child #3 has since moved out and forgot to pack their tortoise.
I was diagnosed with heart disease in 2015 even though I thought I was a pretty healthy person. I was told that I had a 20% chance of having a heart attack in the next 5 years. The cardiologist told me to eat a diet low in carbohydrates, to eat lean chicken and fish, fruits, vegetables, and "healthy fats" such as nuts, seeds, olive oil, and avocado. I looked at him with disbelief and said, "That's exactly what I eat now so how can that get me out of this situation?" He wanted me to take a statin. I wanted to get to the root of the problem instead of just taking medication. He had nothing else to offer. I found Dr. Esselstyn's book Prevent and Reverse Heart Disease and changed my own health. Now I help others with humor and without judgment. I learned to love cooking because I love eating. You're in good hands.
I reversed my own heart disease by using this method; lowered my cholesterol about 100 points, lowered my blood pressure, and lost 20 pounds
I figured out the tricks to make this easy so you don't have to reinvent the wheel
I have a certificate in Plant-based Nutrition from the T. Colin Campbell Center for Nutrition Studies
I have helped countless others reverse disease with this proven method that I turned into a course
I care. I want people to be healthy. No one needs to suffer these completely reversible ailments.
Things you WON'T have to do if you buy the ACE Plant-based Eating Course:
Suffer with reversable diseases such as heart disease, high blood pressure, type 2 diabetes, gastrointestinal issues, autoimmune disease, and weight gain
Guess at how to order when dining out and feel satisfied
Try to navigate unsupportive people in your life
Pull your hair out trying to figure out how to make easy and delicious plant-based meals
Figure out how to cook for yourself while still accommodating those who won't eat this way
Go it alone. You'll have support from a private Facebook group of people who are learning exactly what you're learning
Things you WILL have to do if you buy the ACE Plant-based Eating Course:
Follow the easy instructions and read through the provided resources
Complete easy homework assignments that will move you along such as, cook a pot of beans or sauté something without oil as instructed
Learn how to make your current favorite foods plant-based compliant
Join our Facebook group so you can be supported and give others support
Figure out why this is important to you so that you'll stick with it

with 2 extra BONUS videos!
All for only $39 for a limited time

WHAT WILL YOU GET WITH THIS COURSE?
Short Videos
That explain clearly how to master a plant-based eating lifestyle
Useful Techniques
On how to handle unsupportive people
PDF Handouts
That reiterate what's in the videos
Easy Recipes
Simple and easy to prepare delicious, nutritious meals
Handy Tips
On how to cook for people who won't eat this way

with 2 extra BONUS videos!
All for only $39 for a limited time

THIS ALL SOUNDS GREAT BUT…
How long is this course?
There are 9 lessons providing you with all the tools, tips, strategies and resources you will need to start taking back your health
How quickly will I be able to start once I pay?
Shortly after you make the payment for your ACE plant-based eating course, we will send you an email with your login information and direct you to the course to start right away
How long will it take me to finish the course?
That is totally up to you. You have lifetime access so you can take it as fast or as slow as you like.
BUT DON'T TAKE MY WORD FOR IT…
"Lauren's class made switching to a low-fat plant-based diet a breeze. Each module is packed with helpful information and so many tasty recipes and recommendations. After getting diagnosed with an "incurable" autoimmune disease, I changed my diet following Lauren's plan and have been able to remain medication-free ever since. I dropped my A1C from 9 to 5.5 in three months. I am so grateful to have taken this class and I cannot recommend it enough!"
Matthew

with 2 extra BONUS videos!
All for only $39 for a limited time